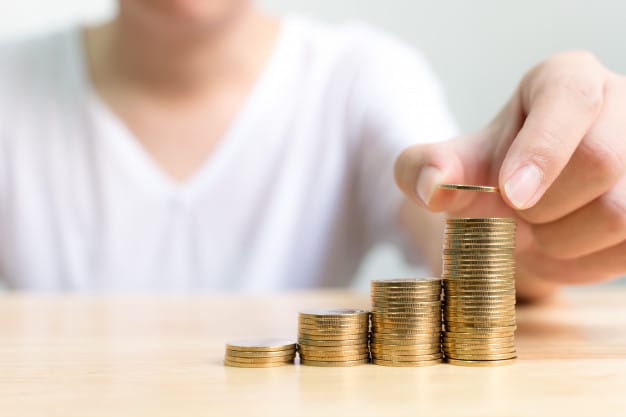 You've just been given a case question on growing an existing business. Immediately, you have a tonne of ideas swimming around your head. In front of you is a blank sheet of paper and a pen. It's up to you to organise your ideas on the page into a structure that's going to set you up for success in the rest of the interview. No pressure, right?
Fear not. In this article we share the most streamlined, comprehensive and water-tight way of approaching any revenue growth question, so you can confidently nail this type of case.
The two main ways to grow a business
First, you'll want two branches, or buckets, in your structure that show the two main ways to grow a business. The first is to grow within the core business and the second is to grow outside of it.
You'll then want to unpack the next level of detail in the first branch. To grow within the core business you can either grow within your current market segments or identify and focus on the fastest growing segments in the market.
Taking the first option a level deeper, you want to consider how you would do this in practice. For example, to grow in your current segments look at how you can acquire or retain customers and increase how much they spend.
For the second option, where you position your company in the fastest growing market segments, look at the geographies, types of customers, or product lines that are likely to experience the fastest growth and make sure you invest in those.
One way of growing outside your core business is to sell new products to your current clients. Another would be to leverage your capabilities to get into new businesses.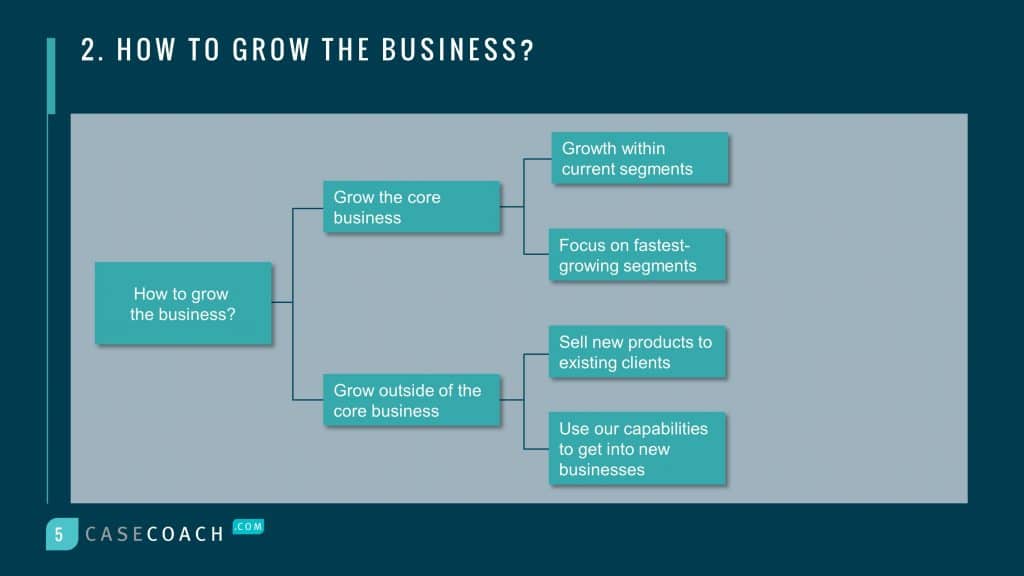 Looking for the best preparation to ace your case interviews?
CaseCoach's Interview Prep Course includes all the video lectures, sample interviews, case material, and practice tools you need.
Revenue growth in practice
You want to make sure your segmentation and ideas are relevant to the client and their industry. You don't simply regurgitate the same structure for each case.
For example, imagine you're a car maker with a strong presence in the SUV market. If you were to grow within the SUV market, your core business, you'd consider making better cars, improving your marketing, and offering competitive prices.
If you were to think about where to position your brand to maximize long term growth you'd invest in electric vehicles, a new low-cost line of cars, or possibly in the Asian market.
If you were to grow outside of your core business, you could sell new products to your current clients, such as insurance, maintenance plans and leasing. Or you could use your capabilities to get into new businesses, such as trucks, buses, or motorbikes.
Remember that it is important when answering a case question like this to pick and choose which of the drivers are actually relevant to the situation. For instance, it wouldn't make much sense for a startup that's trying to establish itself in its core market to even consider growing out of its core.
What makes sense will depend on a number of factors such as time horizon, market maturity, and the position of the company in its market. In any case, this framework is a really good starting point and a strong foundation from which to drive the rest of the case.
Growth strategy is only one of the top-10 business frameworks you need to know to be prepared for the most frequent case interview questions. Enroll to the Interview Prep Course to discover the other nine.