A move into management consulting can be an excellent option for candidates who have recently completed a PhD, medical degree or law degree. However, the competition to land a coveted offer from a top-tier firm like McKinsey, BCG or Bain can be intense.
In this article we explore the firms' 'advanced degree' hiring channel, in which candidates are hired up to two years after completing a PhD or a program at law school or medical school. We look at the academic institutions and PhD subjects that tend to stand these candidates in good stead. We also examine the other elements that they need to include in their applications to cut through the competition and earn the attention of recruiters.
Why is management consulting a good choice after a PhD, law degree or medical degree?
There are many reasons why the work of a management consultant is appealing to those who have recently completed a PhD or a program at law school or medical school. Individuals who pursue advanced academic studies tend to be drawn to intellectually stimulating environments in which they can use their analytical skills. A career in consulting offers this in abundance.
At its heart, the job of a management consultant is to work with some of the world's largest organizations to solve their most critical and complex problems. The impact of a consulting project could therefore easily make the business news headlines. It might even affect the economy, climate change or what people consume. This can be a particularly appealing prospect to those who have recently been immersed in academia, where the real-world impact of a project may not be immediate or particularly tangible.
Consultants work on a wide variety of client projects across a vast range of sectors, functions and locations. For advanced degree candidates, who often have less commercial experience than candidates from other hiring channels, this presents an invaluable learning opportunity. It also provides the chance for them to gain a better understanding of where their expertise and interests lie.
Looking to secure interviews at top consulting firms?
CaseCoach's Free Resume Course includes all the insider tips, templates and examples you'll need to put together a successful application.
Advanced degree hiring: an important channel in the US, Germany and Switzerland
In our analysis of the top routes into McKinsey, BCG and Bain, firms in every location hired advanced degree candidates, although the channel only accounted for a small proportion of total hiring.
Perhaps unsurprisingly, the countries with the highest number of advanced degree hires were those in which post-graduate study is popular: Germany, Switzerland and the US.
While advanced degree hiring only accounted for 4% of total hiring in the US – compared to 9% in Germany and 11% in Switzerland – the firms there hired 2.5 times more of these candidates. There are a couple of key drivers that could account for this. In the US, it's not considered taboo to attain an advanced degree in a discipline such as law and then pursue a career in a different field. Additionally, the strengths of American research institutions tend to draw many international candidates to the US to pursue PhDs and other advanced degrees.
In other countries it's certainly possible to join McKinsey, BCG or Bain as an advanced degree hire, but – as the graph below shows – the channel accounts for a much smaller proportion of total hiring.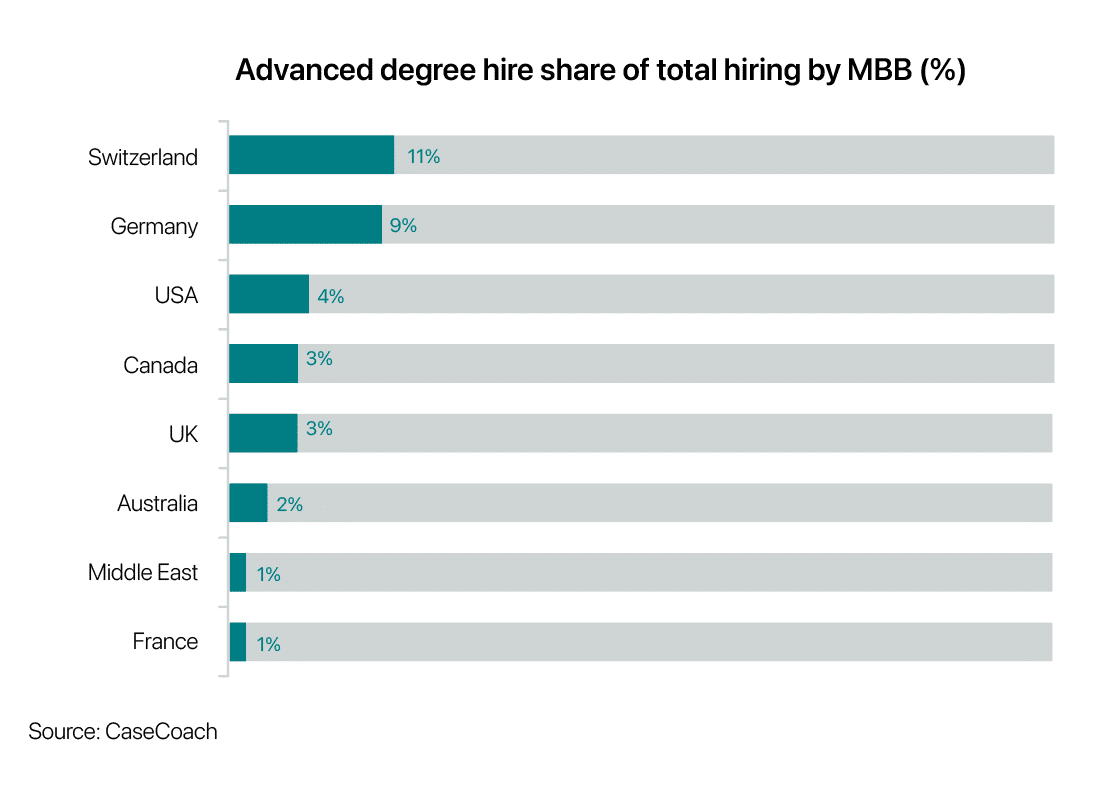 Where do successful advanced degree candidates study?
Our analysis indicates that the majority of advanced degree candidates who land offers at top consulting firms completed their studies at a top-ranking university. In the US, for example, Harvard, Stanford and Princeton were the top-3 contributors of advanced degree hires at McKinsey, BCG and Bain.
MBB advanced degree hires in the US – universities attended
(2020-2022)
Label
University
% of total
Cumulative %
The top 12
Harvard University
10%
10%
Stanford University
8%
18%
Princeton University
5%
23%
Massachusetts Institute of Technology
4%
27%
Columbia University in the City of New York
4%
31%
University of Chicago
4%
35%
University of Pennsylvania
3%
38%
University of California, Berkeley
3%
42%
Georgia Institute of Technology
3%
45%
Yale University
3%
48%
Cornell University
3%
51%
Carnegie Mellon University
3%
54%
The long tail
58 other universities
46%
100%
Source: CaseCoach
While this trend was visible in most of the locations in our study, it was not the case everywhere. In Germany, for example, advanced degree hires were distributed more evenly among a pool of 47 institutions.
Which advanced degrees or PhDs are best for a career in management consulting?
Our analysis indicates that successful advanced degree candidates study subjects that have a strong quantitative element. In the US, the majority of advanced degree hires (69%) held PhDs in Science and Engineering, while 15% were doctors and lawyers. Four percent held advanced degrees in Business, Economics and Finance.
How to stand out as an advanced degree candidate
If you're a PhD graduate, lawyer or doctor and you want to join McKinsey, BCG or Bain, competition will be fierce. Only a minority of candidates are invited to interview. While our research indicates that there are certain universities and academic subjects that may stand you in good stead, it's essential for your application to include other key elements.
Academic excellence
As an advanced degree candidate, you must demonstrate academic excellence within your field in order to distinguish yourself from other applicants. Depending on your background, you could do this by:
highlighting the selectivity of your academic department
showcasing the quantity and quality of the research papers you've authored
listing any selective scholarships or fellowships you've received
emphasizing how quickly you completed your PhD or advanced degree program
Standout work experience
If you worked for a selective employer or completed a sought-after internship during your advanced degree studies, you should include the details in your application and provide evidence that you performed well in these positions. This evidence might include achieving impressive results or being offered a permanent position after an internship.
If your studies haven't allowed you the time to pursue work experience or an internship, you should pay extra attention to emphasizing your people skills and ability to create impact in your application.
Evidence of people skills
Consulting is a client-facing job and firms are looking for evidence of a candidate's ability to interact and communicate with others – including senior executives – in a mature and nuanced way. As an advanced degree candidate, you may have had less exposure to the professional world than applicants who join the firm through other hiring channels. As a result, your capability in this area will be of particular interest to recruiters.
In your application, there are several ways that you can provide evidence that you have strong people skills:
Demonstrating your teamwork and leadership abilities, perhaps through examples of leading a team, holding important responsibilities, or founding an organization as part of either your studies or extracurricular activities.
Demonstrating your ability to persuade and influence others, perhaps through an example of convincing a reluctant supervisor or university stakeholder of something important.
Demonstrating your communication skills, perhaps through examples of public speaking or debating experience, or writing for publications. Submitting a well-crafted consulting resume and cover letter is also an excellent way to provide evidence of your writing abilities.
A track record of impact
Having a track record of taking initiative, showing drive and achieving goals shows consulting firms that you have the potential to contribute to a team and make a difference.
The main way you can demonstrate this is by giving evidence of outstanding results you have achieved in your academic pursuits, work experience or extracurricular activities. Be sure to quantify or benchmark these results to make their significance clear to recruiters, and don't be afraid to remove less relevant experience from your resume to make space for these valuable details.
How to apply to a top consulting firm after finishing a PhD, law school or medical school
Advanced degree hires join top consulting firms at different levels depending on location. In Europe, these candidates are hired into senior pre-MBA roles (i.e. Junior Associates at McKinsey, second-year Associate Consultants at Bain and Senior Associates at BCG). However, in the US, they are typically hired into post-MBA roles (i.e. Associates at McKinsey and Consultants at BCG and Bain).
An excellent way to learn more about management consulting careers and to demonstrate your interest is to participate in an advanced degree programs at one of the firms:
At McKinsey, US-based candidates can choose between two virtual programs that provide insight into management consulting and life at the firm: Insight and Diversity Connect.
At BCG, the immersive Bridge to BCG workshop gives advanced degree candidates insight into the experience of being part of a case team. Participants are all granted a first-round interview at BCG.
At Bain, there is ADvantage – a week-long onsite program that immerses candidates in the consulting world and life at the firm- and Access to Asia-Pacific (APAC), a three-week online program focused on consulting in Bain's Asia-Pacific (APAC) region.
Preparing for interviews at McKinsey, BCG and Bain as a PhD graduate, lawyer or doctor
The consulting interview process for advanced degree candidates is the same as it is for other candidates. There are two components: the case interview and the fit interview. You can learn more in our detailed guides on preparing for case interviews and preparing for fit interviews.
If you're about to complete a PhD or other advanced degree – or have recently done so – and you think a move into consulting might be right for you, you can learn more in our complete guide to the management consulting industry.