London Business School collated the report below, showing the case types most commonly seen by their MBA students when interviewing with top consulting firms: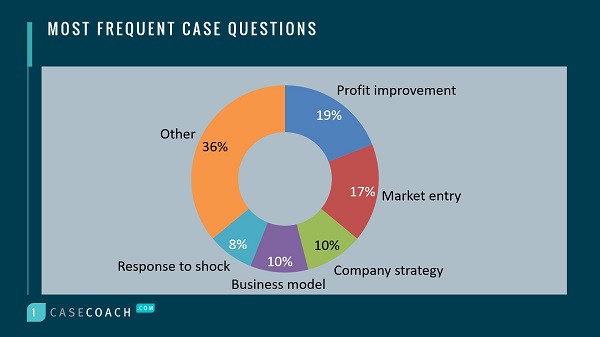 This data is consistent with the experience of our ∼500 candidates who have interviewed at Mckinsey, Bain and BCG.
It highlights two points:
It is important for candidates to be familiar with the most common types of cases, and with the frameworks that can help solving them. However, applying cookie-cutter frameworks won't work; candidates need to adapt them to the situation. For instance, looking at profitability for a restaurant chain will require a very different approach than an automobile manufacturer!
36% of cases fall in the "Other" category, which means that a candidate having to go through 5 or 6 case interviews should expect that a couple will focus on topics that do not fall into the usual types of cases. In short, to get an offer, it is important to be able to structure ANY case question.
In my experience, candidates who rely on the outdated case prep method of memorizing and forcing existing frameworks on to cases will fail. This method might have worked 20 years ago, but firms are now intentionally keeping candidates on their toes with atypical case questions.
The 100+ candidates that we have placed at top-3 firms were all able to structure cases of any type. They used the "IDEAS test", a checklist that we have developed to help them make sure that their structures were effective. Here is more about the IDEAS test as well as how to apply it:
If you would like to view more of our consulting interview prep, simply enrol in our online course.